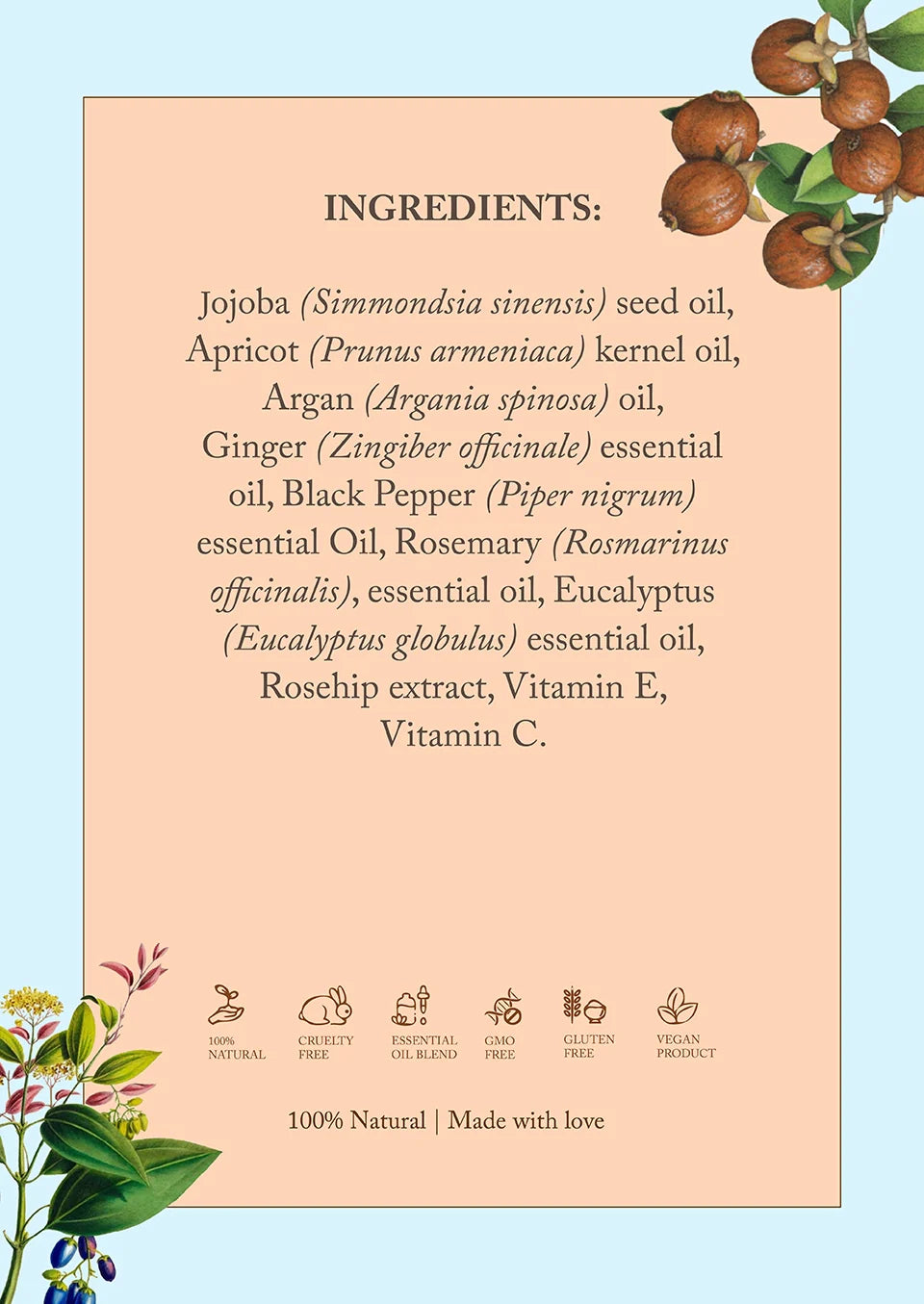 Pain Relief Blend Therapy Oil
Eucalyptus, Jojoba & Rosemary
Reduces joint pain, increases mobility
30 ml / 1.01 fl. oz.
Regular price

Sale price

Rs. 795.00

Unit price

per
This 100% natural therapeutic Pain Relief oil from Oils of Amun is suitable for those experiencing painful inflammation of body joints. This oil acts like a natural healer that helps reduce symptoms such as swelling, stiffness, and inflammation. The inflammatory properties in it are effective for treating the symptoms of arthritis. Our products are Vegan, Phthalate free, Paraben and SLES free. Benefits • Reduces joint pain.• Increases joint mobility.• Reduces joint inflammation.• Penetrates deep into skin. Ingredients Jojoba (Simmondsia sinensis) seed oil, Apricot (Prunus armeniaca) kernel oil, Argan (Argania spinosa) oil, Ginger (Zingiber officinale) essential oil, Black Pepper (Piper nigrum) essential Oil, Rosemary (Rosmarinus officinalis), essential oil, Eucalyptus (Eucalyptus globulus) essential oil, Rosehip extract, Vitamin E, Vitamin C. How to Use Gently pump 10 to 12 drops of Pain relief blend therapy oil on yourpalm and massage each joint until fully absorbed. Repeat twice daily Storage Store in a cool, dry place. Avoid direct sunlight. Warning: Keep out of reach of children.
Here's why you can trust us with our products.